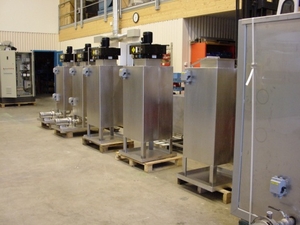 Demister (VXDM)
Demister - condensor system for high pressure wash.

System:
In high pressure washing at 80 ° a great deal of the water turns to steam. The contaminated water and the steam runs into the Demister, where the steam is condensated in a cooler. The condensed water and the washing water is pumped to the separator for purification.
Contents:
A condensor chamber where the steam is separated from the water. The steam is sucked out of the chamber through a cooler where it is condensed to water and falls to the bottom. The water is pumped to the separator. The cooler is cooled with industry water.