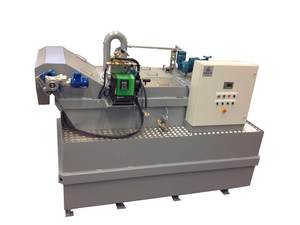 Mustang (VXCS)
System:
This central coolant management system is similar with the
Bison
unit, but it has a smaller capacity.
Compact design requiring a minimum of floor space (LxWxH=2,5x1,3x1,7 m). Excellent performance in tramp oil separation.
Separation quality:
Particles down to 25µ
Maximum amount of tramp oil in working fluid:
<1%
Throughput capacity:
Serves up to 10 machining centres.