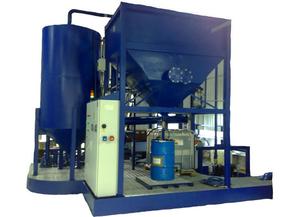 Decantor (VXDC-A)
System:
A separator enabling separation of particles of sizes down to 10µ (option 3µ) by settling them in motionless liquid volume.
Periodical settling of fluid under motionsless liquid volume in a lamella package and automatically discharge of decanted fluid and separated wastes. Automatically operating cleaning system of the lamella package.
The unit is complete including: Lamella separator, dirty tank, clean tank , supply pumps and automatic topping up system.
The lamella separator has an automatic self-cleaning system.
The sludge is collected directly into standard sludge barrels.
The unit is automatic and of type:Lean maintenance and no consumables.
Application:
Hard metal grinding, honing, EDM fluids
Separation quality:
Down to 10µ (option 3µ)
Throughput capacity:
Up to 2.000 lpm/unit