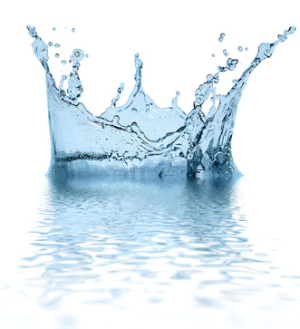 Washing liquids
Washing without detergents for cold rolled strip steel
(High pressure and high temperature)
The purified water from the separator feeds to a high pressure pump and to the washing chamber by the rolling plant. The strip is degreased when water of high temperature at high pressure sprays through nozzles on to the surfaces of the strip. As water at high temperature at high pressure expands to the atmospheric pressure, a great deal of the water transforms to steam that degreases the strip effectively.
The steam and water with contaminations down stream of washing stage is sucked into a demister unit (
VXDM
) in which the steam is condensated and pumped together with the contaminated water to the a special separator - Decantor
(VXDC–A
). In the Decantor the water is purified i two separate lamella packages. In the first package with continuous flow particles and tramp oil are separated at the operating flow rate, and in the other the liquid volume that is equivalent to the volume of the lamella package is settled in motionless state till the very tiny particle has settled to the lamella plate. The decanted fluid is then mixed to the operating washing liquid.
The washing water down stream of the Decantor will be heated and then pumped to the high pressure pump. (For more information, contact us.)
Washing liquids with detergents
Washing liquids at conventional chamber and tunnel washing machines normally use detergents (alcaline). Washing liquid with detergents heat up to temperature of 60 - 80 °. The washing liquid after the operation is contaminated with oil and solid particles. The purification of washing liquid is carried out in 3-phase lamella separator of type Penguin stationary (
VXKN–A
). Washing liquids contaminated with solid particles of density lower than water are handled by the Dolphin (
VXGR
) purifer, which includes a reusable bag filter and a lamella separator in a process liquid tank including a supply pump.
Recommended products:
1. Chamber - and tunnel washer: For by-pass purification:
Stationary Penguin Lamella Separator
. (
VXKN–A
)
2. Chamber - och tunnel washer: For full-flow purification at a max. flow rate of 100 lit/min:
Dolphin
(
VXGR
)
3. High pressure washer without detergent: For full-flow purification at a max. flow rat of 300 lit/min:
Decantor
(
VXDC–A
)