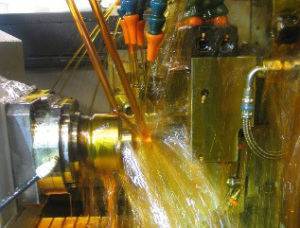 Cutting neat oil
System:
In the cutting operation where lubrication of cutting tools is most important, neat oil can be applied onto the cutting operations. Gear cutting and automatic latch cutting are such operations.
DinoFilter is a cylinder filter working with depression and uses a permanent stainless steel filter cloth. Automatic cleaning of the filter cloth at a pre-set (and adjustable) vacuum value in the filter drum.
Purification range:
Particles down to 25µ. (Option: down to 3µ).
Purification capacity:
Up to 10.000 liters/min/unit
Recommended products:
For flow up to 10.000 lit / min:
DinoFilter (VXCP-A)